Strain Gauges for Stress Analysis

KFU Strain Gauges for High Temperatures

KFU Strain Gauges: For Temperature Ranges up to +350 °C
The KFU series of strain gauges are the ideal choice for structural tests at exceptionally high temperature conditions rising up to 350 °C (see the details provided below).
KFU strain gauges are already pre-wired and are equipped with a 1-meter-long, high-temperature protection cable. They are available with a 2 mm and 5 mm grid, depending on the requirements of the individual application. Moreover, they are available with temperature adaptations for ferritic steel, austenitic steel, and aluminum. The typical applications include strain measurements on autoclaves or measurements under steam.
This product is offered in partnership with Kyowa Electronic Instruments.
Temperature Range: Up to 72 hours or less at 350 °C or 360 hours or less at 300 °C.
Available Adhesives: The maximum temperature of 350 °C refers to the pre-wired strain gauges and accessories only; HBM offers the EP310N adhesive which is suitable for applications up to 310 °C. For applications with higher temperatures (up to 350 °C),the PI32 adhesive bond from Kyowa Electronic Instruments Co., LTD. (Japan) can be used.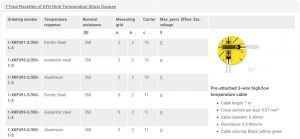 Installation Accessories of the KFU Strain Gauges
High/Low Temperature Cable for KFU Strain Gauges

This high/low temperature cable is ideally suited for wiring KFU strain gauges. It comprises of a 3-twisted wire cable and has a coating of polyimide ceramics. It can be employed for internally connecting strain gauge bridges or for contacting from the strain gauge through the solder terminal.
Cross section per lead: 0.07 mm2
Cable diameter: 0.38 mm
Resistance: 0.5 Ohm/m
Thermal resistance: -269°C to +350°C
Cable length: 30 m
Order Number: 1-L-17-3
Soldering Pad for KFU Strain Gauges

KFU strain gauges are always delivered as pre-wired versions without the need of using soldering pads.
For special applications which require the use of soldering tabs in extremely high/low temperature regions, this product is the right choice.
Temperature Range: -196°C to 350°C
Dimensions (W x L x d), in mm: 5-pole 6 x 25 x 0,1; 1-pole 6 x 5 x 0,1
Conductor Material: Copper foil
Contents per package: 100 pairs; (20 sheets/ 5 poles per sheet)
Order Number: 1-L-17-3