Perception software for Genesis Highspeed DAQ

Perception High Speed DAQ Software

Perception Software: Reliable Data Acquisition at High Speed
The Perception software is designed for fast and reliable processing of large amounts of data and is therefore ideal for high-speed data acquisition. Thanks to the patented StatStream technology Perception enables 10 gigabytes of data to be visualized on your PC in 10 seconds. For your measurement, this means: Reliable storage and flexible real-time display as well as immediate review. You can access saved data even while measurements are running and zoom in on these data. Recording continues in the background.
Another highlight offered by Perception software is absolute operational security. Reliable data storage and using stable software are enormously important, particularly when tests cannot be repeated or are difficult to repeat. A software crash and the resulting data loss would be extremely expensive, for example, in destructive materials testing or aircraft starts. Perception high-speed software has been designed precisely for these requirements and has been subjected to extensive testing.
Configure
Immediately ready for use – without any programming
Sensor database ensures easy setup
Configure channels individually, in groups, or by EXCEL import
Password protection of sensitive settings
Display
Patented, extremely fast visualization of large amounts of data
Display of any number of visualization windows with Trend, Scope, x/y, FFT, and Meter
Powerful multiple zoom functions and up to seven cursors
Review while recording – analysis while the measurement is running
Compute & Analyze
Real-time or post-process computation
Over 150 analysis functions ranging from statistics through filters to FFT
Analyses in any sequence
IF…THEN decisions integrated in the analysis process
Save & Store
Extremely fast storage with up to 400 MB/s on hard disk
Storage on Linux RAID arrays or iSCSI data server for 100% data security
Separate and/or collective storage and loading of device settings, formulas, report layouts, etc.
Document
"One-click" transfer of computed results or cursor values to Excel
Integrated report generator
Quick Report enables "one-click" transfer of graphs and tables to Word
Advanced Reporting allows the preparation of complete, conclusive reports in Word
Automate
User keys and macros facilitate automated testing and analysis sequences
Automated export, analysis, or report generation after the measurement
Batch processing of thousands of measurements with cross-measurement reporting
HBM Push: Define events to be notified by push messages to your mobile device
From Configuration to Automation: Perceptions Versatile Features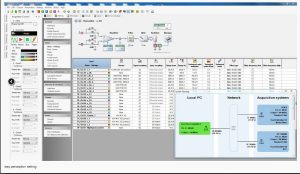 Configure: All amplifiers are displayed in a table where they can be configured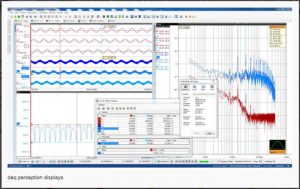 Display: Any number of different visualization windows can be combined and displayed across multiple monitors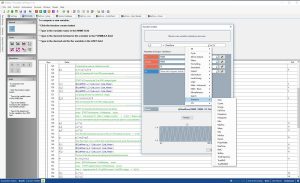 Compute & Analyze: Over 150 functions are available and allow the customization of formulas and analysis
Document: Multi page reports can be created with displays, tables, user text and word alike formatting options
Automate: Entire measurement campaigns can be automatically saved, analyzed, exported, etc.