ClipX Industrial Signal Conditioner

ClipX – The Precise and Easy-to-Integrate Industrial Signal Conditioner
With an accuracy class of 0.01 and an integrated calibration certificate, the interference-proof signal conditioner ClipX is setting new standards in industrial process control. ClipX adapts to your measurement task, regardless of whether it is used with single- or multiple-channel applications, in manufacturing machines, in test benches or for production monitoring. Owing to the Plug and Play principle, up to six devices can be plugged simultaneously in a modular setup and the measured data can be pre-calculated. Unlike conventional measuring signal conditioners, ClipX does not require a separate head module for direct data processing.
ClipX provides all the latest automation interfaces to perfectly integrate the device into comprehensive control concepts. A particular feature is the intuitive web interface that also enables remote operation, parameterization, and diagnosis.
Accuracy class: 0.01
Measurement inputs: Full-bridge and half-bridge strain gauges, piezoresistive transducer, potentiometer, Pt100, current, and voltage
Interfaces: PROFINET, EtherCAT®,PROFIBUS, Ethernet/IP™*, analog (V/mA,) digital-I/O, and Ethernet (TCP/IP)
IIoT (Industrial Internet of Things): Remote diagnosis, Health monitoring and web integration
Precise and interference-proof
Fast and digital signal conditioning for force sensors, load cells, torque sensors, pressure transducers, as well as temperature and standardized signals (current/voltage)
Guaranteed measurement accuracy, even in harsh industrial environments with electrical interferences
Full traceability owing to EN10204-compliant calibration records that are directly stored in the device
In combination with the SD01A Zener barrier , sensors can also be operated as intrinsically safe devices in potentially explosive atmospheres, measurement circuit type (Ex II (1) GD, [EEx ia]IIC).
Reliable results and trustworthy acquisition of mechanical and electrical quantities in industrial environments
Faster industrial processes
A high sample rate and high bandwidth facilitate for easy use in automation environments
Quick setup and diagnosis using the display on the device and the intuitive web interface
Full support of TEDS (Transducer Electronic Data Sheet)
ClipX-bus allows transmission and computation of measured values between up to 6 devices
Interfaces: PROFINET, EtherCAT®, PROFIBUS, Ethernet/IP™, analog (V/mA,) digital-I/O, Ethernet (TCP/IP)
Integrated OPC-UA server (available from version 3.0)
Easy setup with integrated web interface, time- and cost-saving remote diagnosis, and automated channel parameterization of the measurement chain (TEDS) or the integrated Adjustment Assistant that guides the user step by step
Efficient and profitable
Individual system setup and compact design
Easy and safe assembly without tools
Transmission of measured values in millisecond intervals using the ClipX-bus
Mathematical and technological calculation channels (Smart Functions) allow signal conditioning/analysis and easy parameterization
Individually configurable input/output signals and fieldbus interfaces
All the device settings can be individually configured via the Ethernet and fieldbus interfaces and the internal object directory
Open to integration with many other software programs: LabVIEW, Visual Studio .NET under Windows as well as Linux
Unbeatable price-to-performance ratio and a future-proof investment because of the open automation standards
Intuitive Web Interface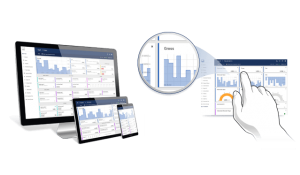 ClipX comes with an innovative and intuitive web interface and is immediately operational without any software installation or training.
It can be used on all browser-based devices (and also mobile devices)
Touchscreen control with three-level user administration
Remote maintenance via a company network or the Internet
The web interface can be used on mobile devices using a WiFi router
Create your own customized display pages
Multilingual user interface with integrated help and adjustment assistant
Individual System Setup
ClipX allows for the synchronization of both individual measurement chains and systems in milliseconds – optionally with a simultaneous PC or fieldbus connection.
Measured values including their status (diagnosis) are transmitted via the ClipX bus
No head module is required, which reduces costs
Direct processing of all signals such as summation, peak values, or controls
The multi-client capability enables all interfaces to be used in parallel and in real time
Digital inputs and outputs can perform fast control and monitoring tasks (e.g. alarms)
The Industrial Internet of Things (IIoT)
ClipX already meets the requirements of the future IIoT.
Easy amplifier parameterization via TEDS or the smart Adjustment Assistant
Smart devices owing to Smart Functions (diagnosis and analysis)
Non-interacting, parallel operation of the PLC, the system PC, and the service interfaces
High forward-compatibility and investment security due to flexible automation interfaces and data logging to the Cloud (OPC-UA protocol on request)
ClipX accessories:
The ClipX measurement signal conditioner comes with the following free accessories:
ePLAN macros available for free download
3D model (STEP files)