ARAMIS Adjustable

ARAMIS Adjustable
The modular measuring system for 2D and 3D analyses
Grows with your requirements
The modularly expandable ARAMIS Adjustable camera system is a cost-effective entry point into the world of GOM metrology. It provides precise 2D and 3D coordinates for the analysis of statically or dynamically strained components and can be used flexibly for various measuring tasks.
A modularly expandable system
Do you need to cover professional metrology tests with a limited budget? Now you can configure ARAMIS Adjustable according to your needs. When your requirements grow, the system grows with them. For instance, the 2D sensor can be easily extended to a 3D system with a second camera. Other system components, such as the GOM Testing Controller, Dual LED lighting, and software, can be added just as easily.
Start small, expand your system later.
| | | | |
| --- | --- | --- | --- |
| Camera System | 2D Sensor | expand to | 3D Sensor |
| Recording | Sensor Driver ARAMIS 2D | expand to | Sensor Driver ARAMIS |
| Image Processing | GOM Correlate | expand to | GOM Correlate Pro |
| Training | eLearning | expand to | GOM Training |
| Support | E-Support | expand to | GOM Technical Support |
The ARAMIS Adjustable upgrade path

Flexibly adjustable measuring area
With both a 2D and a 3D sensor, the system is suitable for full-field and point-based analysis of components subjected to static or dynamic strain. Thanks to variable measuring volumes and distances, the sensors can be used flexibly for different measuring tasks. Furthermore, the flexible dual LED lighting allows to illuminate even difficult to access samples from different angles. This makes the system ideal for research institutions and universities working on various applications.   Start small, expand your system later.
The fully equipped system solution
For the turnkey ARAMIS Adjustable system solution, a total of three 3D camera variants with a resolution of up to 12 megapixels are available. Every hardware and software component is included in its highest configuration level– all while you benefit from the usual GOM Technical Support and GOM Training.
MULTITUDE OF MEASURING VOLUMES
SUITABLE FOR NUMEROUS APPLICATIONS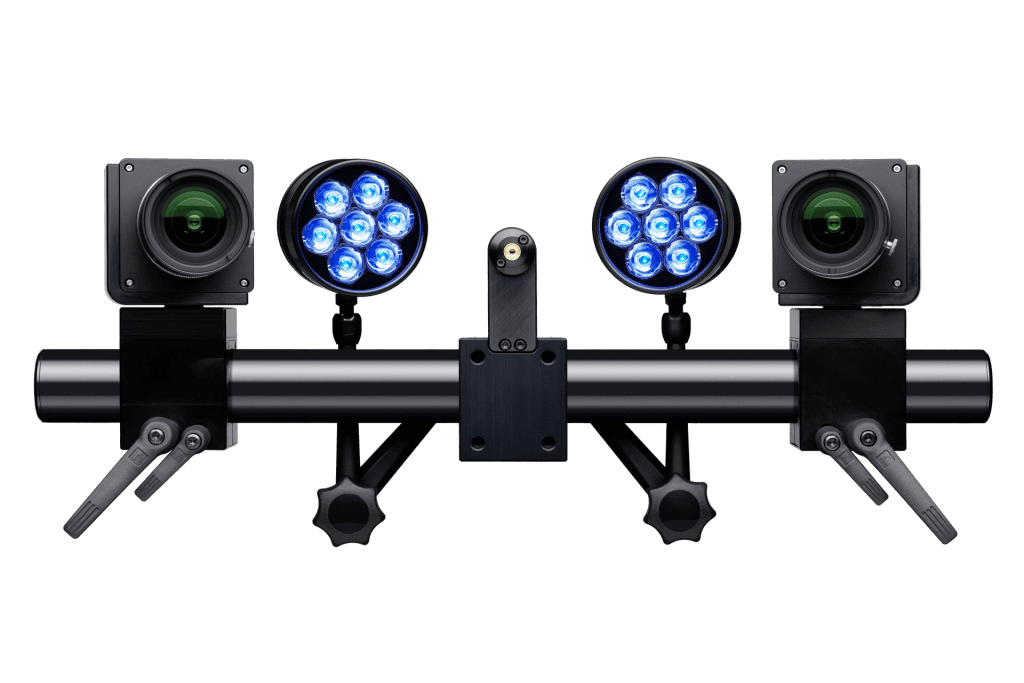 ILLUMINATION OF SMALL TO MEDIUM-SIZED OBJECTS.
Technical data for ARAMIS Adjustable 2D/3D
With a total of three camera variants between 2.3 and 12 megapixels and frame rates from 25 to 2,000 fps, ARAMIS Adjustable is designed for a variety of applications in research, development and industry.
| | | | | |
| --- | --- | --- | --- | --- |
| | 2D/3D 2.3M | 2D/3D 12M | 2D/3D SRX | High Speed |
| Camera resolution | 1936 x 1216 pixels | 4096 x 3000 pixels | 4096 x 3068 pixels | up to 2048 x 2048 pixels |
| Frame rate (fps) | 130 fps (up to 450 fps) | 25 fps (up to 100 fps) | 75 fps (up to 480 fps) 335 fps (up to 2000 fps) | e.g. 6400 fps (up to 200000 fps) e.g. 16000 fps (up to 1000000 fps) |
| Measuring area (mm) | 10 x 6 mm² up to 5000 x 3000 mm² | 20 x 15 mm² up to 5000 x 4000 mm² | 33 x 25 mm² up to 5000 x 4000 mm² | 10 x 10 mm² up to 5000 x 5000 mm² |
Accessories
GOM Touch Probe
Calibration object
Reference point markers
Deformation spray package
Stand
Transport case
Applications

Surface strain measurement of samples
Non-contact and material-independent measurements based on the principle of digital image correlation (DIC).

Determination of material properties
For material tests such as Nakajima, bulge, tensile, bending, shear, and hole expansion tests.

Measurement of local effects
Detailed representation of the material behavior. Transition between elastic and plastic uniform strain.